Single Tooth Implants
If you're missing a tooth and want the very best dentistry has to offer, you could be the perfect candidate for single-tooth implants. Single-tooth implants act as tooth roots for replacement teeth. They are securely anchored into the jaw and topped with a dental crown for the very best in look, feel and function. Single-tooth implants offer several advantages over other tooth replacement options, such as dental bridges and partial dentures. Surrounding teeth and the jawbone are better preserved. Single-tooth implants are also easier to clean.
Teeth Whitening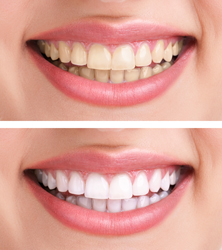 Today's teeth whitening treatments are easy, convenient and affordable. The kits we provide in our office have a higher concentration of bleaching solution than the kits you can purchase over the counter. For most predictable results, we make bleaching trays from impressions of your teeth and provide the solution for you to place in the trays for your daily at home applications. One hour daily for two to three weeks is usually adequate.
Porcelain Veneers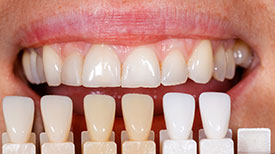 Smile makeovers do not require multiple visits over a period of several months. Porcelain veneers are made of thin porcelain shells that are bonded to your teeth for cosmetic or restorative purposes. Very versatile and durable, porcelain veneers are a good option for treating chipped teeth, cracked teeth or closing gaps between your teeth, They require minimal prepping and are applied in two visits.
Cosmetic Dental Bonding
Cosmetic dental bonding is a versatile and affordable way to improve the appearance of chipped teeth, stained teeth and gapped teeth. As one of the most conservative cosmetic dentistry treatments around, cosmetic dental bonding requires little to no prepping and preserves most of the natural tooth structure. And it's fast, too! Dental bonding usually takes just one visit to complete.